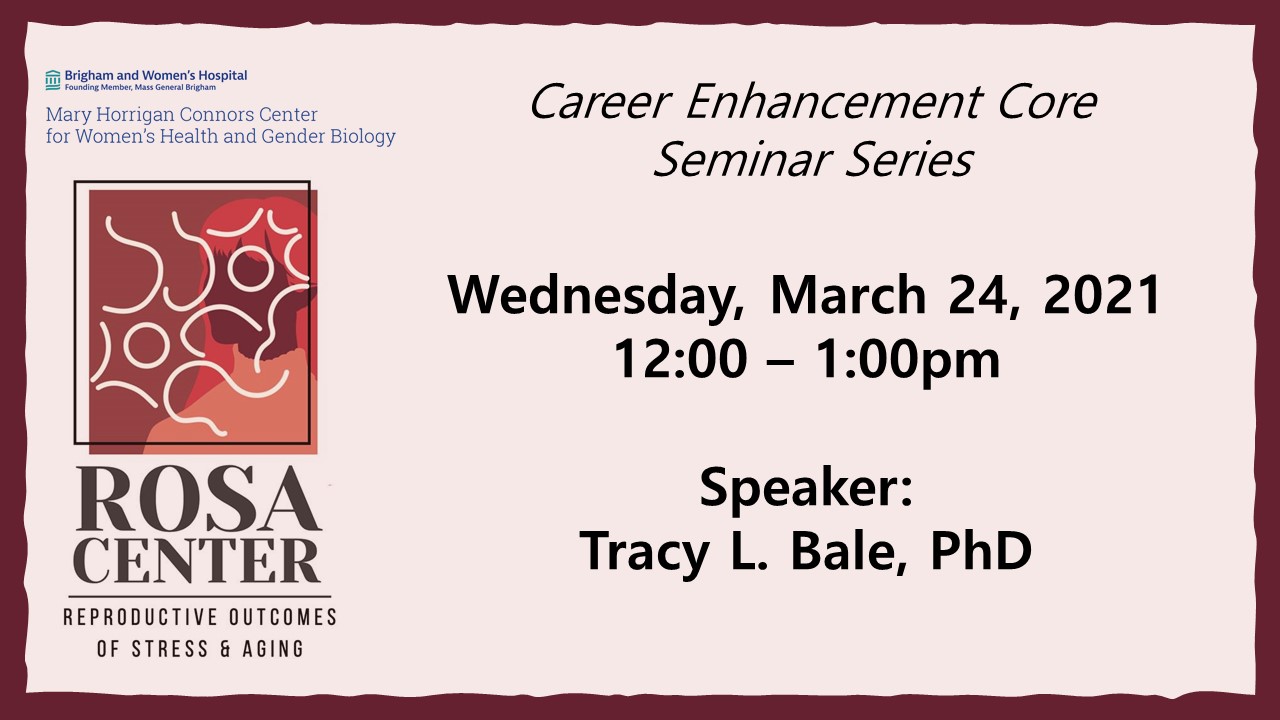 3/24/21 – ROSA Center Seminar: "Identifying novel systemic mechanisms of trauma programming: Extracellular vesicles as stress signals" (Tracy L. Bale, PhD)
Wednesday, March 24, 2021   |   12:00-1:00PM   |   Virtual   |   Registration Required
Presenter:
Tracy L. Bale, Ph.D
Professor of Pharmacology
Director of Center for Epigenetic Research in Child Health and Brain Development
University of Maryland School of Medicine
President, International Brain Research Organization
Tracy L. Bale's research focuses on the role of stress dysregulation in neurodevelopmental and neuropsychiatric diseases, and the sex differences that underlie disease vulnerability in humans.
---
About the ROSA Center Career Enhancement Core Seminar Series:
This Seminar Series is hosted by the Brigham/Harvard Reproductive Outcomes of Stress and Aging Center (ROSA), based in the Connors Center of Women's Health and Gender Biology at Brigham and Women's Hospital, which is one of eleven Specialized Centers of Research Excellence (SCORE) in Sex Differences nationwide and is co-funded by the National Institute on Aging (NIA) and the Office of Research on Women's Health (ORWH) at the National Institutes of Health (NIH) (Research Grant 1U54AG062322). The Career Enhancement Core is a part of the ROSA Center based in the Division of Women's Health at Brigham and Women's Hospital.  If you have questions about this seminar series, please contact Mara Hampson.