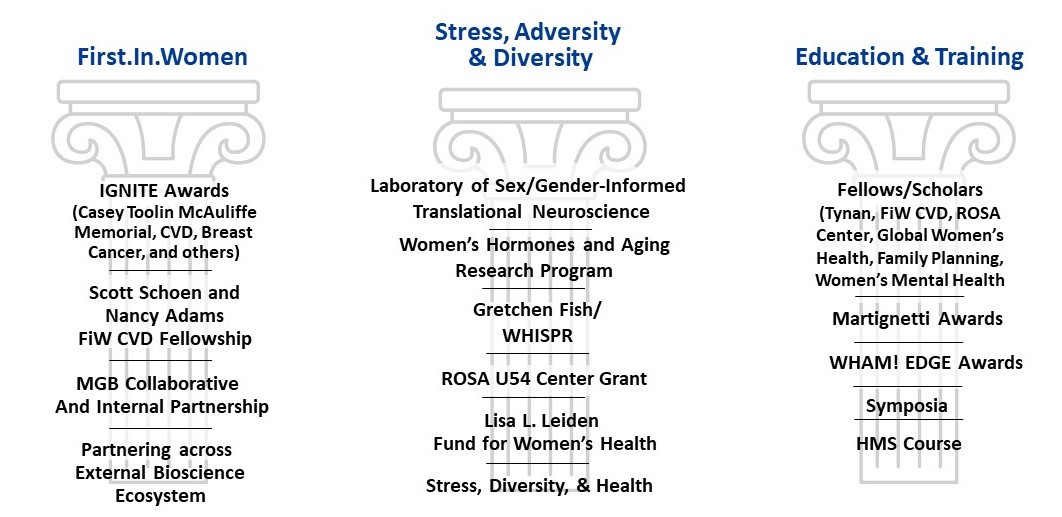 The majority of the Connors Center's work falls under three major pillars, the First.In.Women® (FiW) Precision Medicine Platform, Stress and Women's Health Research, and Education and Training.
In the first pillar, FiW's translational research structure helps fund and promote research at Brigham and Women's focusing on treatments of all diseases that affect the health of women. Through the FiW platform, the Connors Center educates, informs, and engages a range of stakeholders to ensure novel therapeutics are optimally understood in both women and men.
The second pillar, Stress and Women's Health Research, focuses on how different types of stress impact women's physical and mental health and are processed by the brain. This includes accumulated lifetime stressors, environmental stress, and physiological stress. Two signature Connors Center programs that fall under this pillar include The Brigham/Harvard Center for Reproductive Outcomes of Stress and Aging (ROSA) that investigates neural processing of stress in postmenopausal women, and the Women's Health Interdisciplinary Stress Program of Research (WHISPR) that examines the effect of stress on the health of women and convenes a community of stress investigators at Brigham and Women's Hospital.
For the third and final pillar, Education and Training, the Connors Center's mission includes bolstering knowledge in the field of women's health research through hosting educational events, programs, and symposia that convene academics, physicians, scientists, industry, and community partners. Some examples of these events are the Annual Research Symposium, the Rosa Center Seminar Series, the Medical Education Initiative and the 2021 National Summit on the Health of Women.