As part of its mission to bolster knowledge in the field of women's health research, the Connors Center hosts educational events, programs and symposia which unite the thought leaders and accomplished researchers of the Brigham and Harvard communities to share their knowledge and expertise.
Connors Center Conversations
As the COVID-19 pandemic evolves, the mission of the Connors Center remains strong: to highlight the priority for applying a sex and gender lens to important, often urgent, research. To that end, Connors Center Conversations was launched to illuminate and maintain a spotlight on how this incredibly challenging situation will impact the health of women. 
Webinars 

Telemedicine in the U.S. has expanded rapidly since the start of the COVID-19 pandemic. Use of telemedicine has preserved our ability to care for patients and can also be harnessed to develop and optimize innovative ways to deliver high-quality, gender-specific health care for women. In this webinar, panels of experts will discuss whether and how telemedicine can meet healthcare needs for women, and what obstacles and challenges should be considered and addressed in pursuing this goal.
Sex and Gender Factors in COVID-19:  On June 10, 2020 the Connors Center hosted a webinar focused on sex and gender factors in the context of COVID-19 research and care. This webinar featured conversations and panels with experts from Brigham Health.
Podcast 
Our podcast series, Connors Center Conversations: Igniting Change for the Health of Women, explores the cutting edge in sex- and gender-informed research and how to translate these discoveries into better and more precise care for women. Find the podcast here. 
Episode 1:  The Fundamentals of Difference with Hadine Joffe: On this episode of Connors Center Conversations, Hadine Joffe discusses sex- and gender differences in healthcare and research in the context of COVID-19 and the First.In.Women Precision Medicine Platform.
Episode 2: The Effects of Stress and Trauma Over the Lifespan: A Conversation with Dr. Kerry Ressler and Dr. Cindy Liu. On this episode of Connors Center Conversations we take the long view on the impact of stress and trauma Over a Lifetime with Dr. Kerry Ressler and Dr. Cindy Liu.
Annual Women's Health Luncheon
The Connors Center has been hosting its Women's Health Luncheon Program annually since 2005 on the Friday before Mother's Day.
The 2022 luncheon took place in person on May 6, 2022. Speakers included Professor of Social Policy, Law, and Women's, Gender and Sexuality Studies at Brandeis University Anita Hill, JD, Co-founder and Managing Partner Oak HC/FT and First Lady of Connecticut Annie Lamont, Executive Director of the Connors Center Hadine Joffe, MD, MSc, Brigham and Women's President Robert S.D. Higgins, MD, MSHA, and Chief of the Division of Pulmonary and Critical Care Medicine Bruce Levy, MD, MSc. More information about the luncheon can be found here.
The 2020 luncheon was cancelled due to the COVID-19 Pandemic. The 2020 program, titled "Mental Health & Resilience" was presented during the 2021 luncheon on May 7, 2021. More information about the luncheon can be found here.
The event on May 10, 2019 marked the most successful program in the event's history. Titled "Heart of the Matter: Insight into Women's Cardiovascular Health," featured keynote speaker Tara Westover, New York Times best-selling author of Educated: A Memoir. BWH-featured speakers included BWH President Betsy Nabel, MD, Connors Center Executive Director Hadine Joffe, MD, MSc, and BWH cardiologists Michelle O'Donoghue, MD, Anju Nohria, MD, and Gregory Piazza, MD, MS.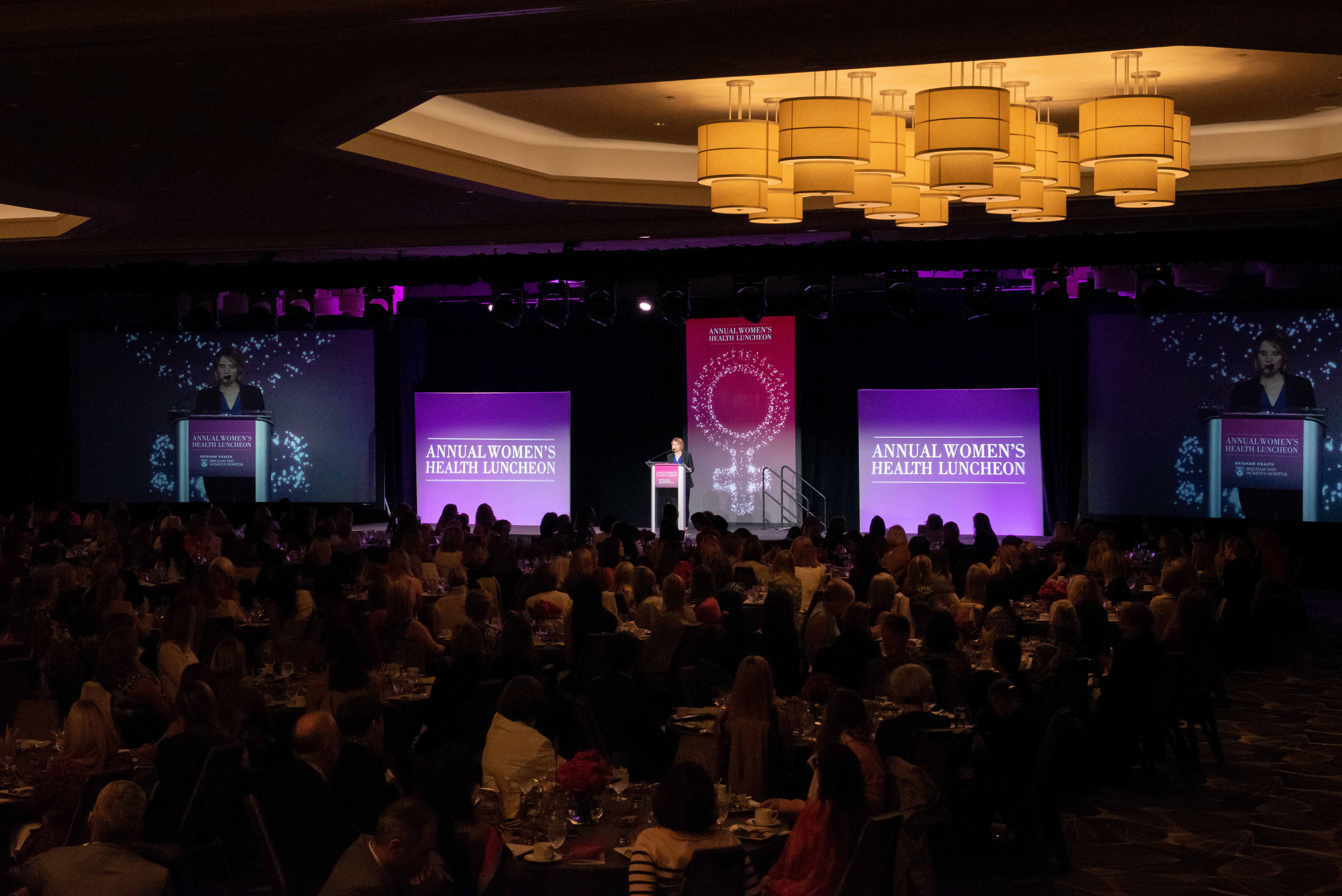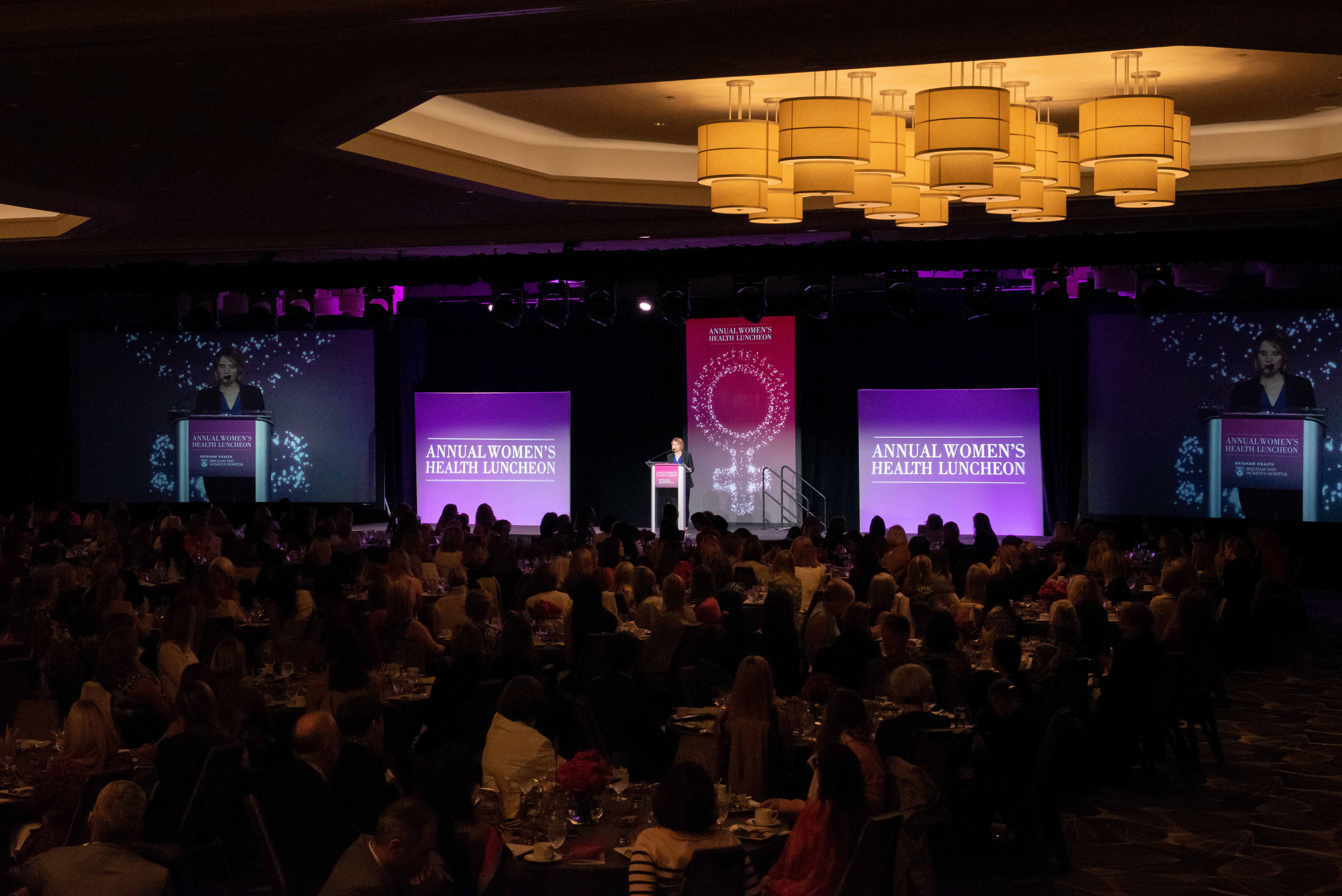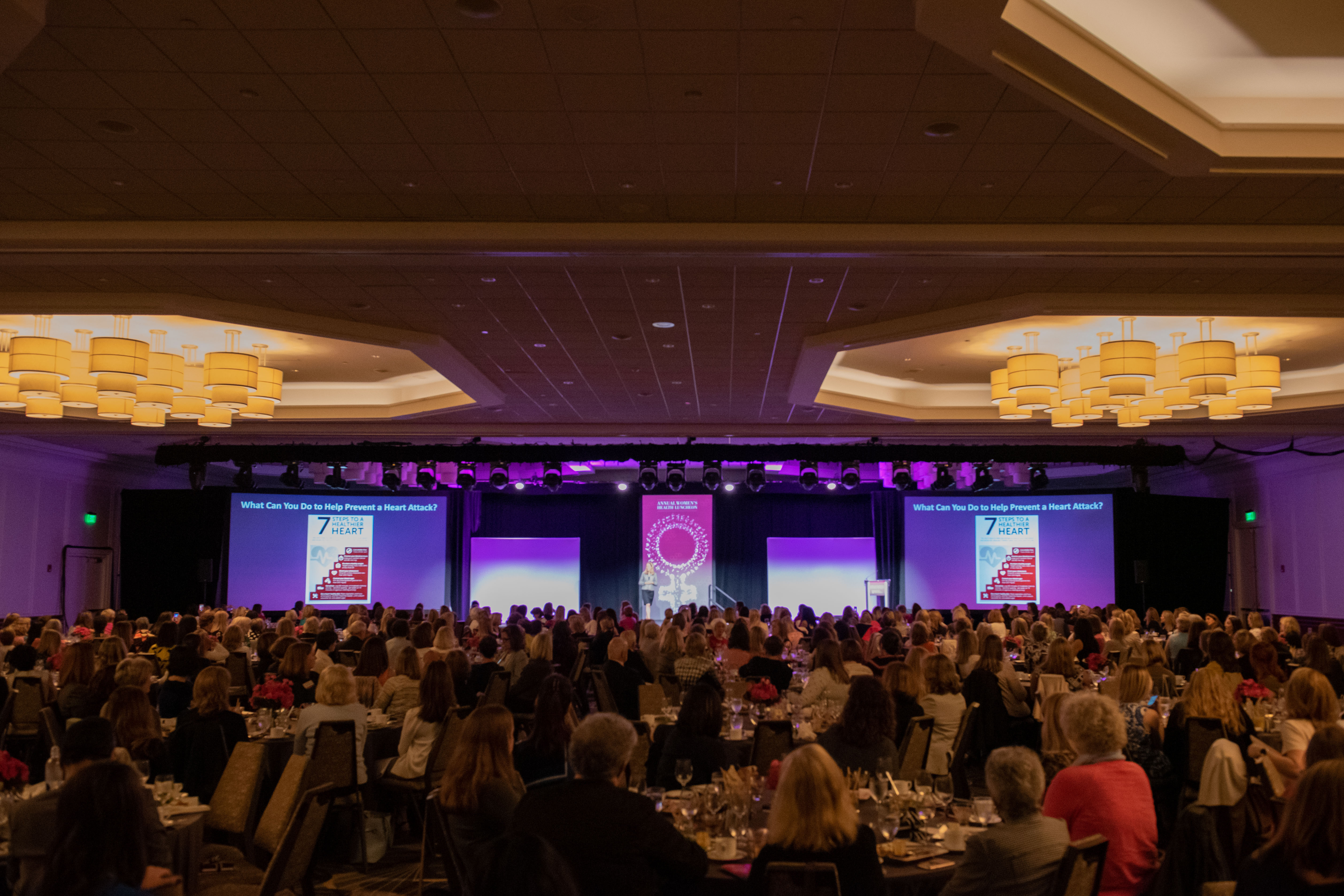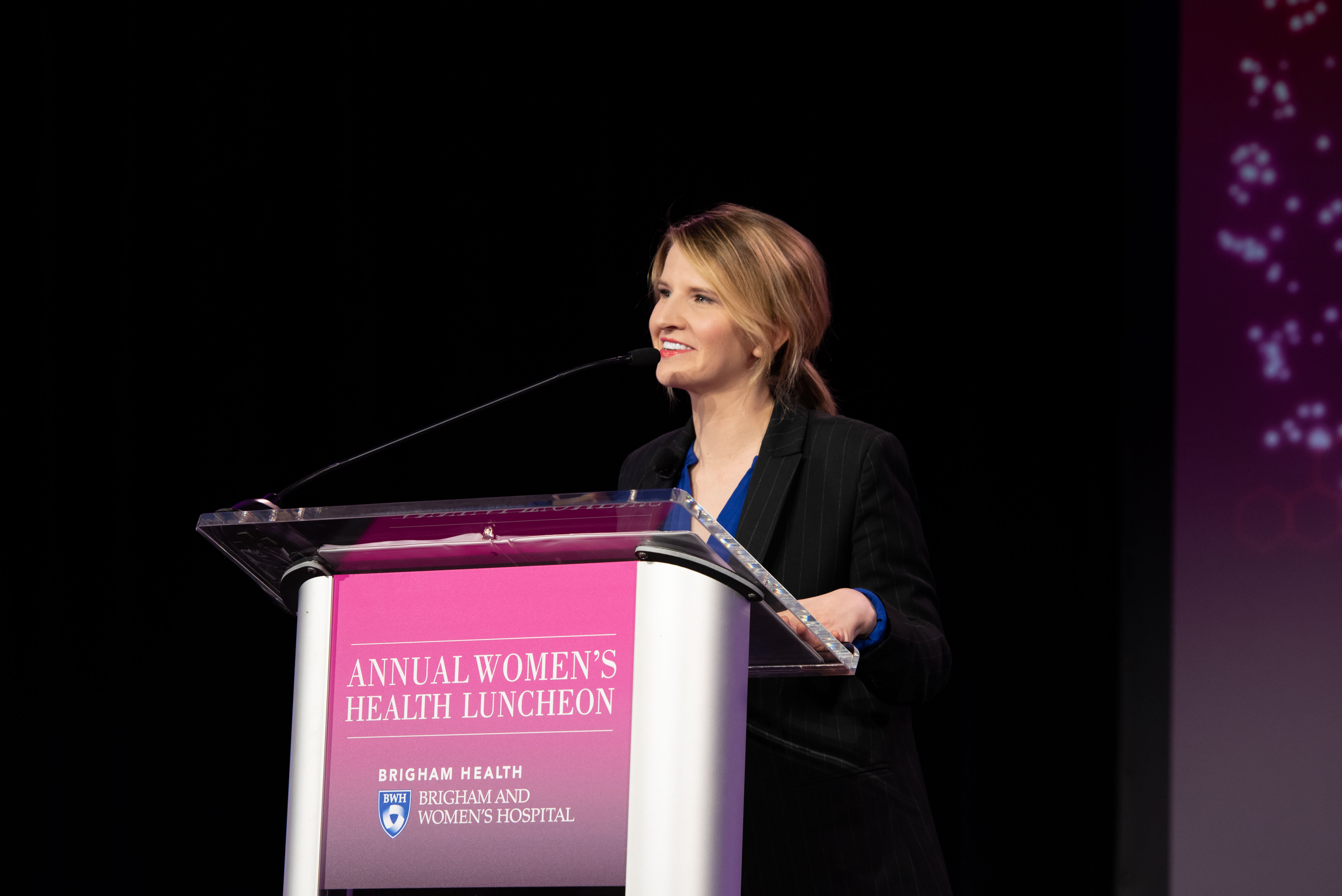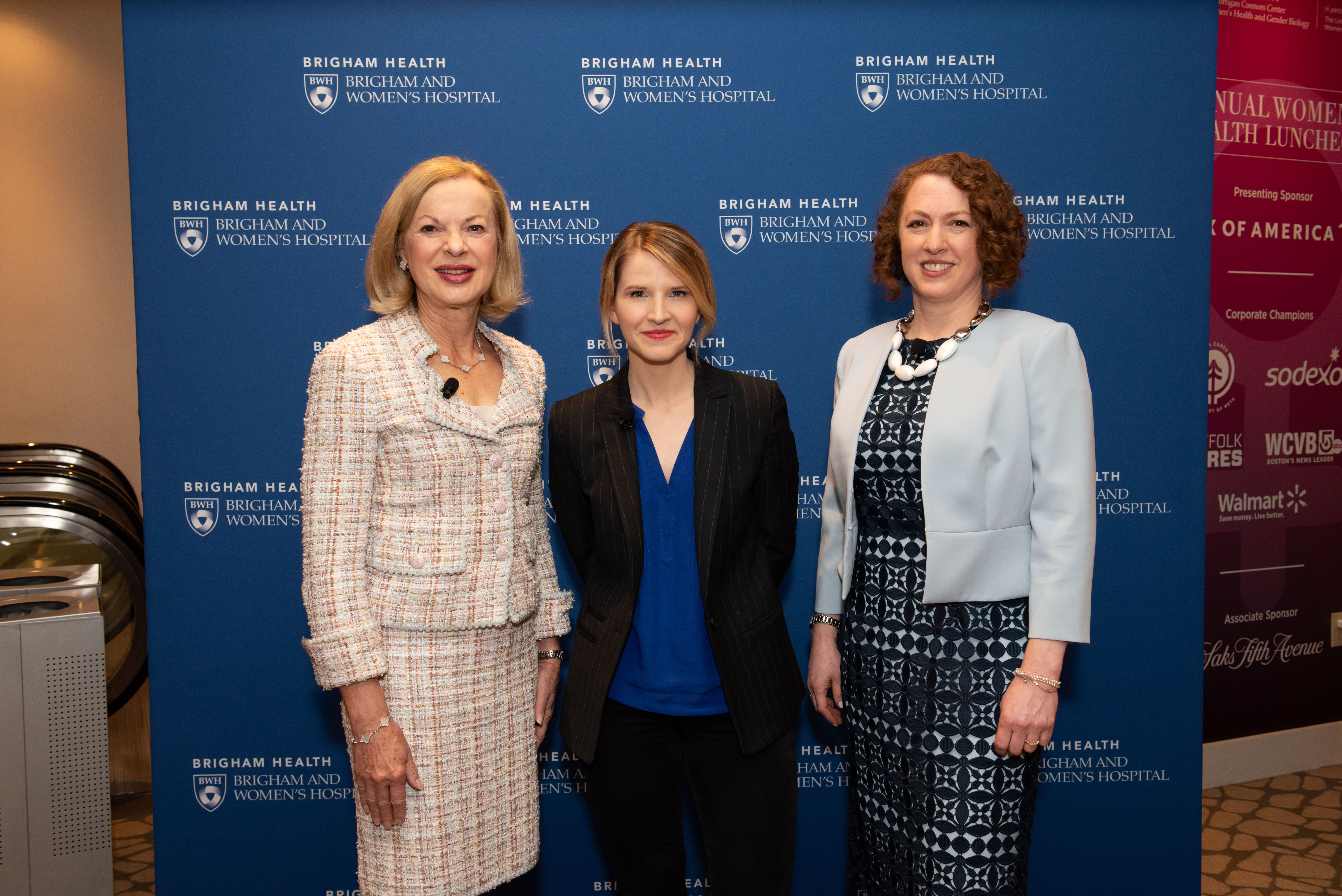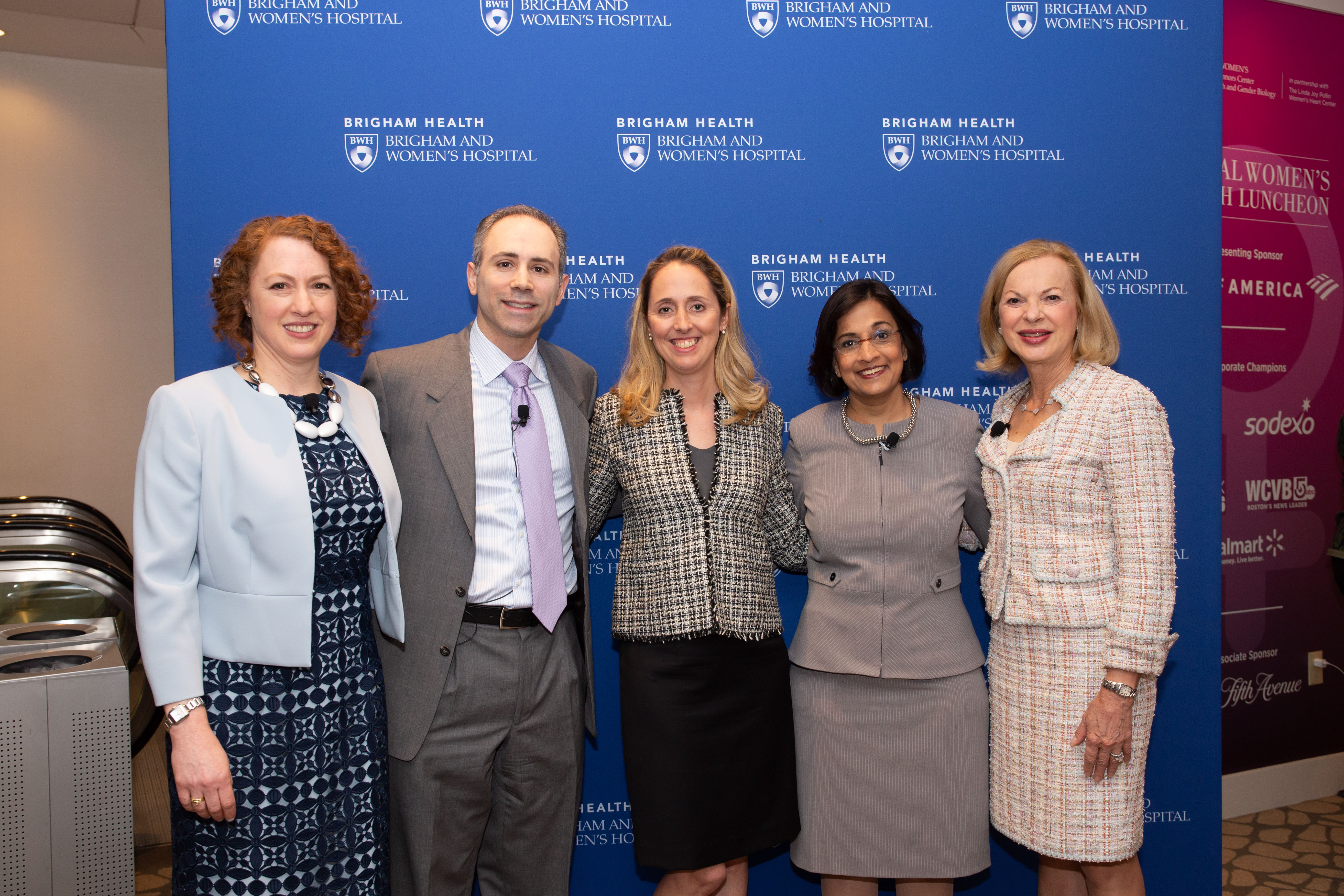 Women's Health Interdisciplinary Stress Program of Research (WHISPR) Symposium
As part of the Women's Health Interdisciplinary Stress Program of Research (WHISPR), the Connors Center hosts an annual scientific symposium for the BWH academic community on the topic of how physiologic and psychological stress affect women's health and disease. Each WHISPR symposium includes a keynote speaker followed by short, pitch presentations from finalists who have applied for one-year pilot research awards on the topic of stress and women's health.
The 5th annual WHISPR symposium took place virtually on May 25, 2022, and featured keynote speaker Karen Kim, MD, Professor of Medicine and Vice Provost for Research at University of Chicago. She spoke on "Charting a path forward towards and inclusive research agenda: the Asian American research paradox." In her talk she addressed the negative impact of the historic exclusion of Asian Americans from research and provided a call to action along with resources for remedying this moving forward. In addition, Claire-Cecile Pierre, MD, Associate Chief Medical Officer and Vice President of Community Health at Brigham and Women's Hospital spoke about the Center for Community Health and Health Equity and their work to increase the inclusion of racial, ethnic and socioeconomic diversity in research and patient care. The 2022 WHISPR Awardees also presented on their research projects. Information can be found about their projects here.
Past Symposiums:
The 4th symposium took place virtually on March 30, 2021 and featured keynote speaker Elissa Epel, PhD, Professor and Vice Chair in the Department of Psychiatry at University of California, San Francisco. She spoke on "Psychological Stress, Cell Aging, and the Health of Women".
The 3rd symposium, scheduled to take place in April 2020, was cancelled due to the COVID-19 pandemic.
The 2nd symposium took place on April 3, 2019 and featured keynote speaker Jamie Maguire, PhD, Kenneth and JoAnn G. Wellner Professor, Tufts University School of Medicine. She spoke on "Stress and Postpartum Depression: Lessons from Preclinical Models." Dr. Maguire's work was seminal to the recent FDA approval of the first drug ever for postpartum depression.
The 1st symposium took place on April 11, 2018, and featured keynote speaker Karestan Koenen, PhD, Professor of Psychiatric Epidemiology at Harvard T.H. Chan School of Public Health and Broad Institute.  Her talk was titled, "Trauma and Women's Health: Life Course Burden Within and Across Generations".
The Annual Connors Center Research Symposium provides an opportunity for the Connors Center to showcase the exciting and important work being carried out to advance the health of women by the Center's leaders, fellows, and seed funding awardees.
The 2022 Connors Center Annual Research Symposium was held at Brigham and Women's Hospital on November 29th in conjunction with the Brigham/Harvard Reproductive Outcomes of Stress & Aging (ROSA) Center, an NIH Specialized Center of Research Excellence on Sex Differences. Over 100 attendees from the Connors Center, BWH, MGB System, and external community gathered for the first in-person event hosted by the Connors Center since 2019. Daniel Grossman, MD delivered the keynote address entitled "All hands on deck: strategies to maintain access to reproductive healthcare post-Roe". Other speakers included investigators and trainees from the ROSA Center and recipients of Connors Center awards and Fellowships. Read more and watch a recording here.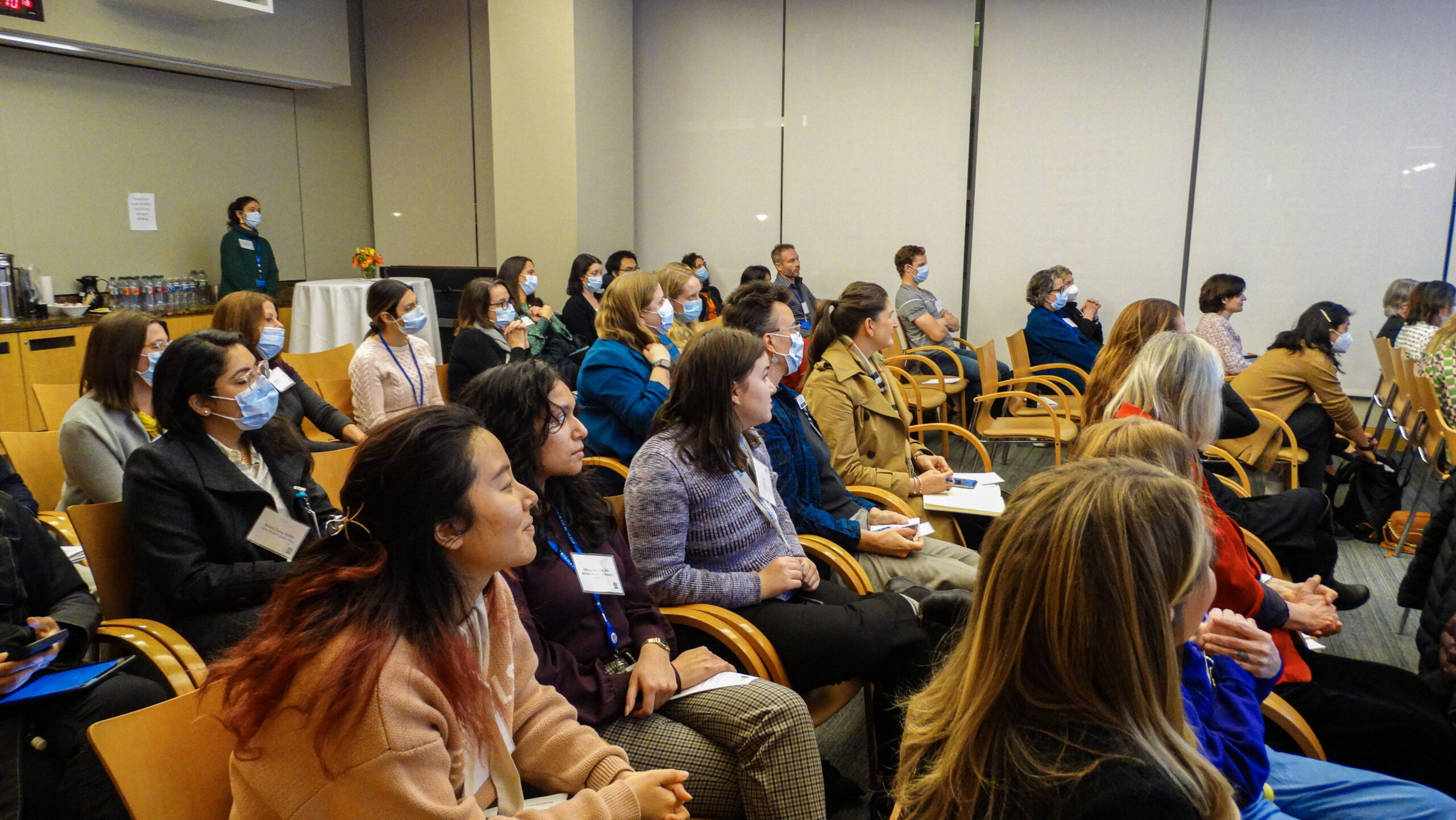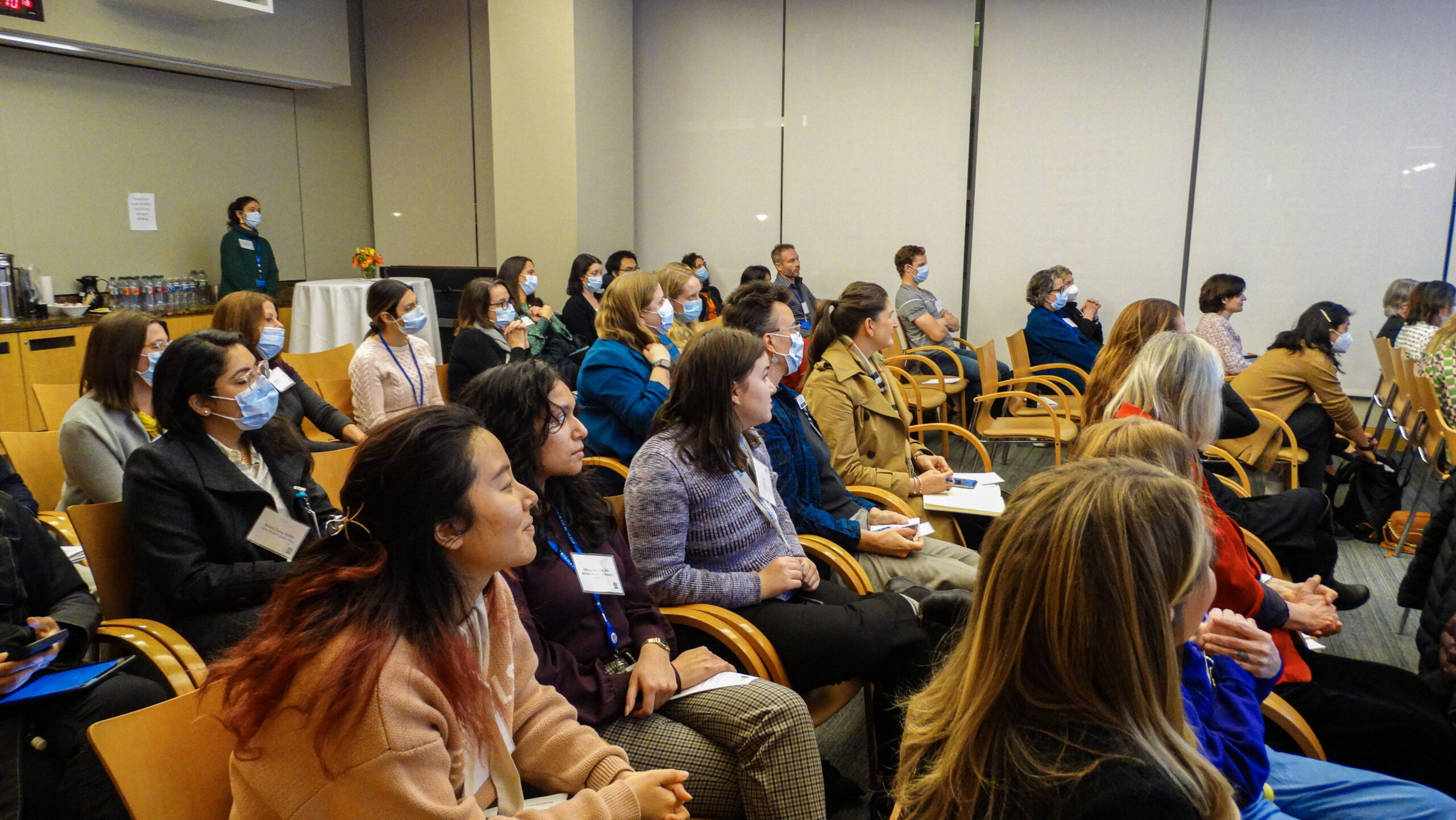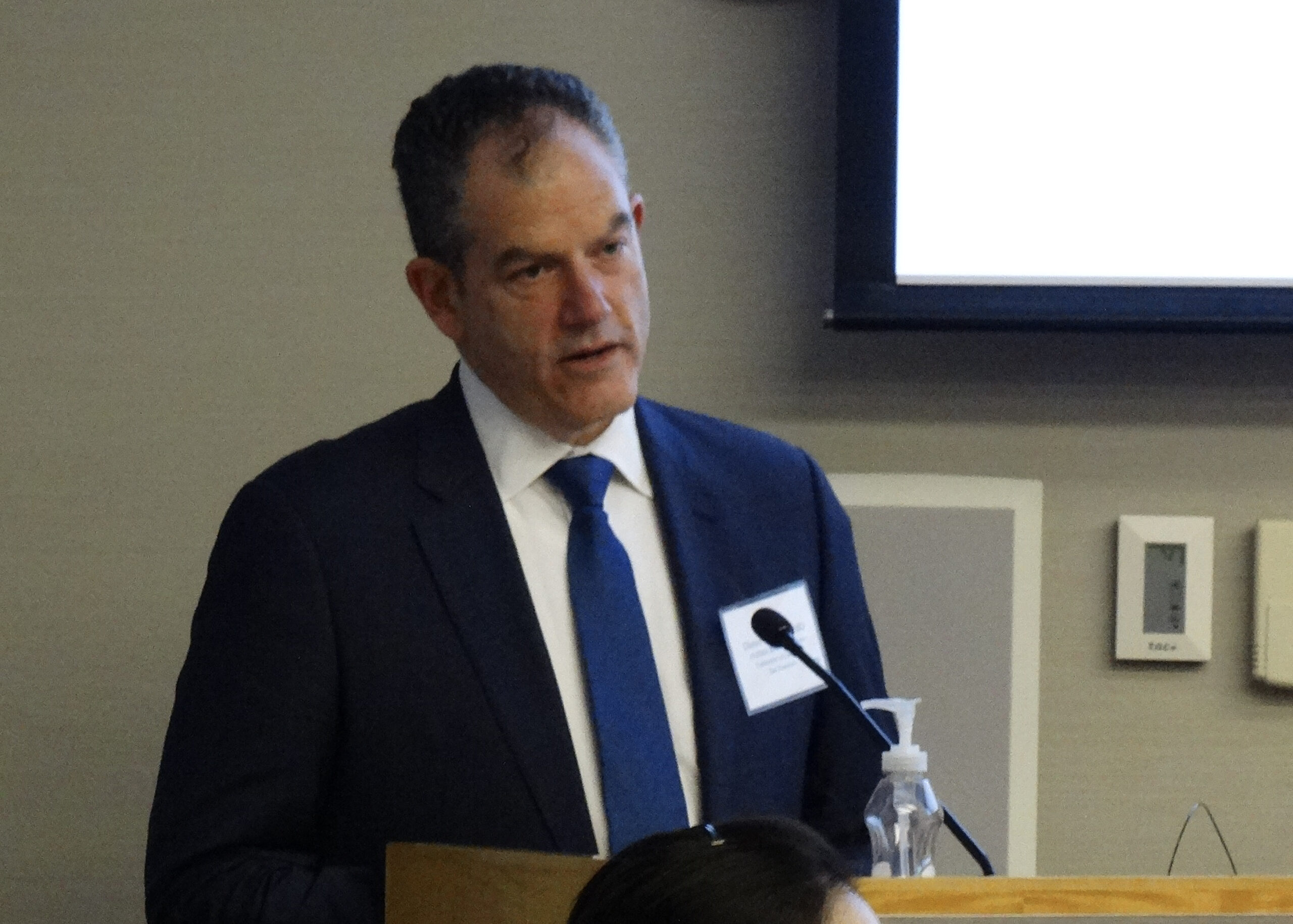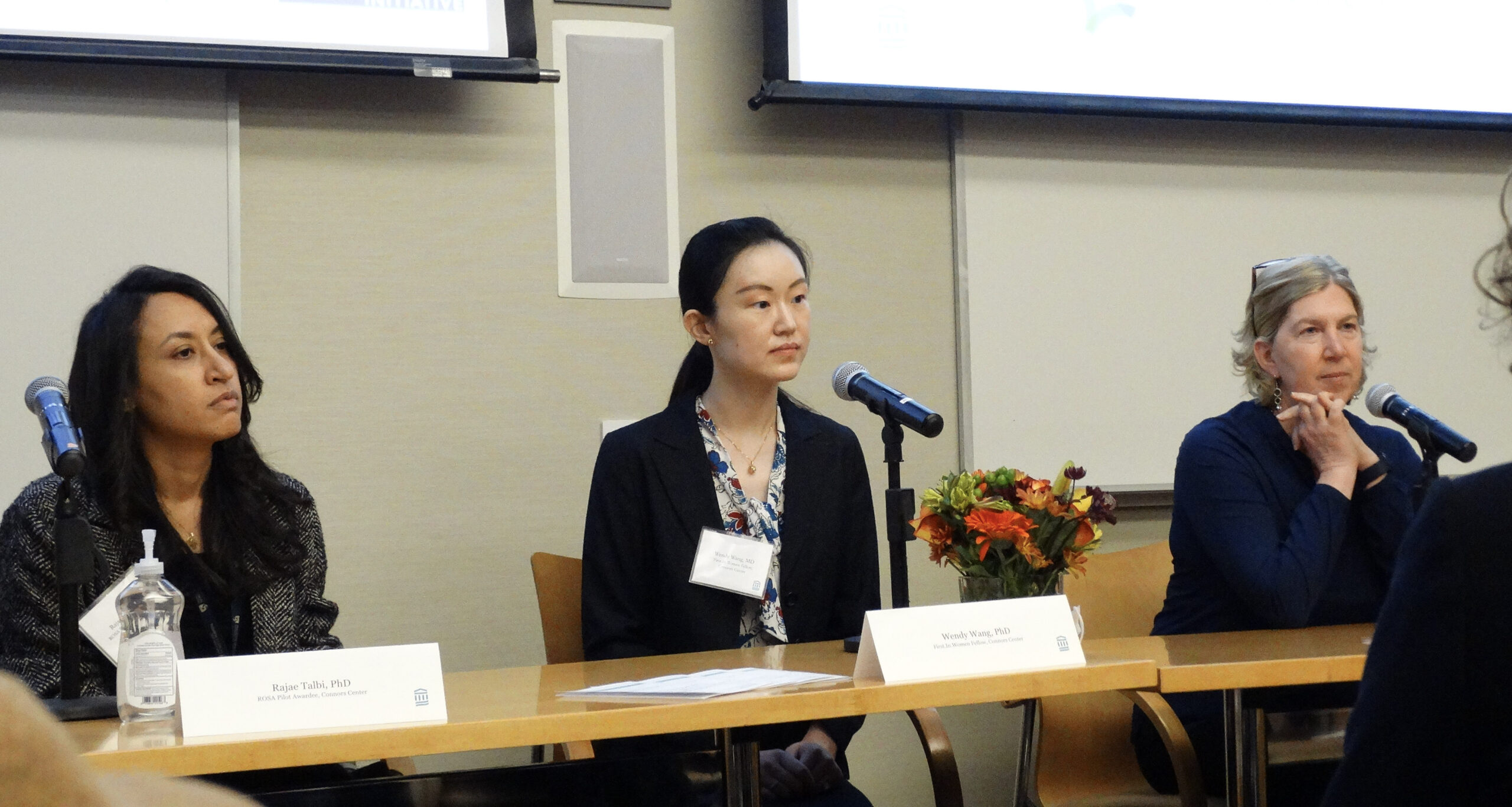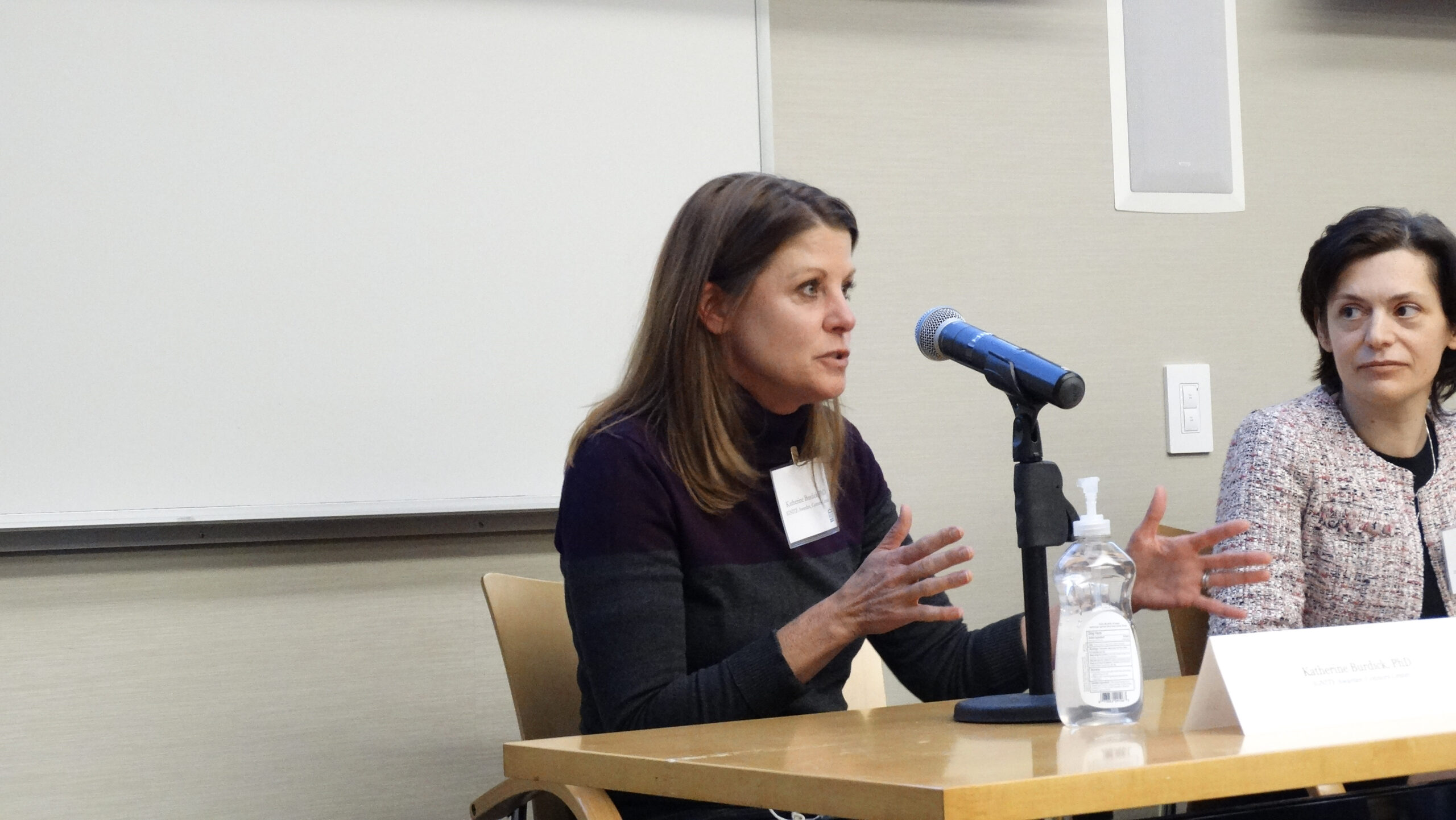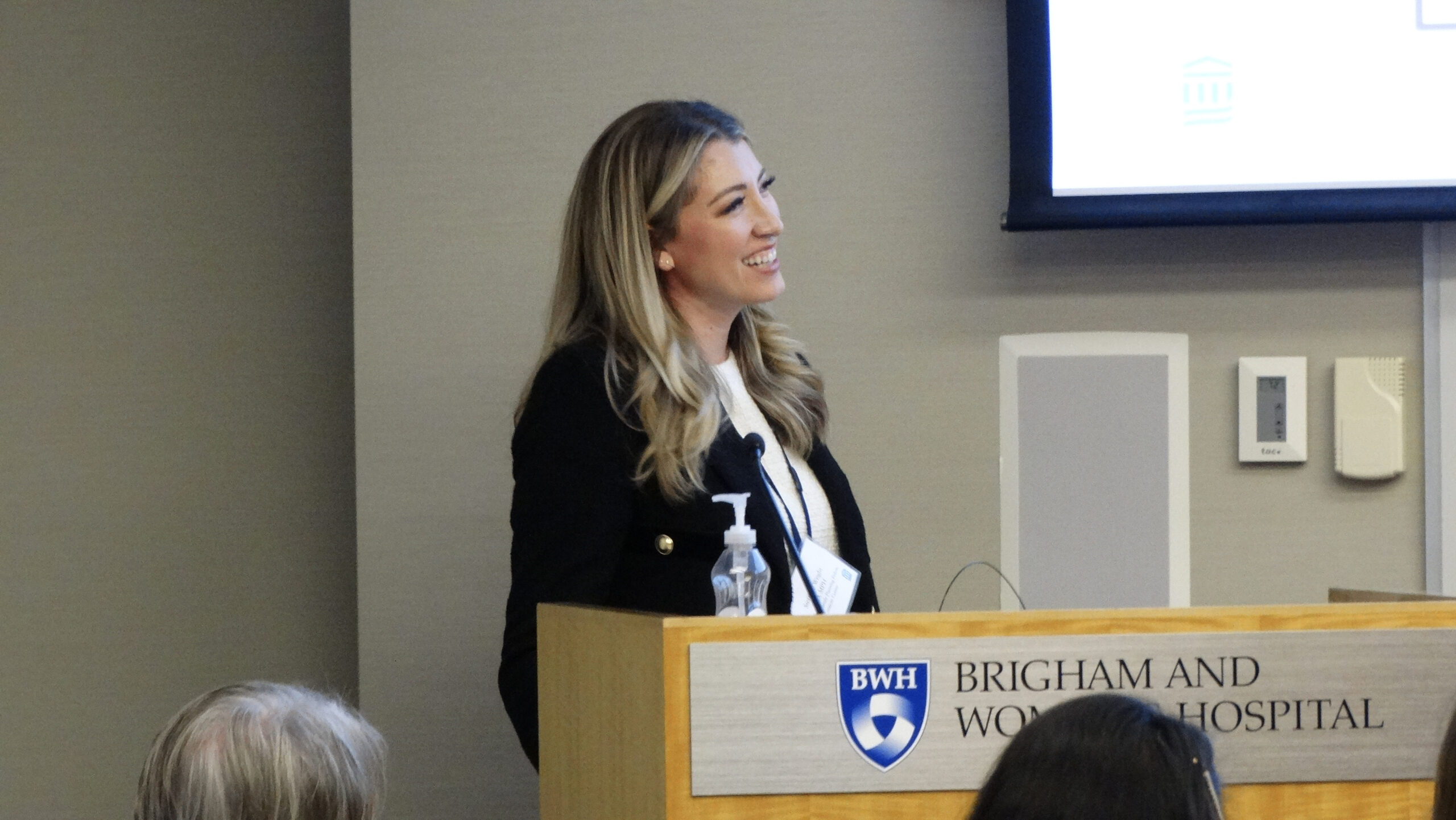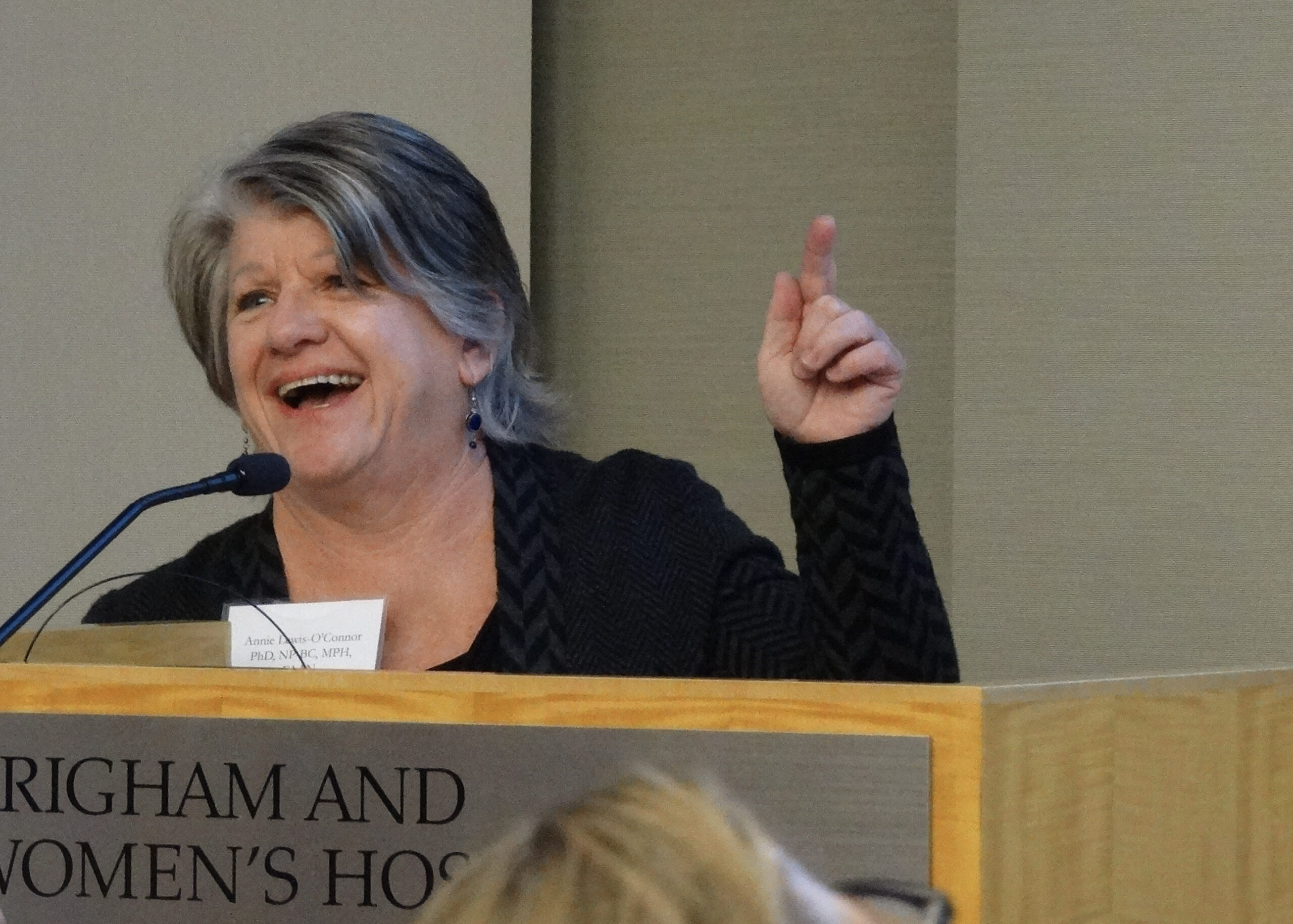 Past Symposia and Data Blitzes:
Our 2020 Virtual Research Symposium: Stress, Sex, and Gender, was held on September 22, 2020. The event featured keynote speaker Dr. Kerry Ressler and additional speakers, Dr. Hadine Joffe, Dr. Dawn DeMeo, Dr. Le Min, and Dr. Cindy Liu. A Q&A session was moderated by Dr. JoAnn Manson. Watch a recording of the symposium here.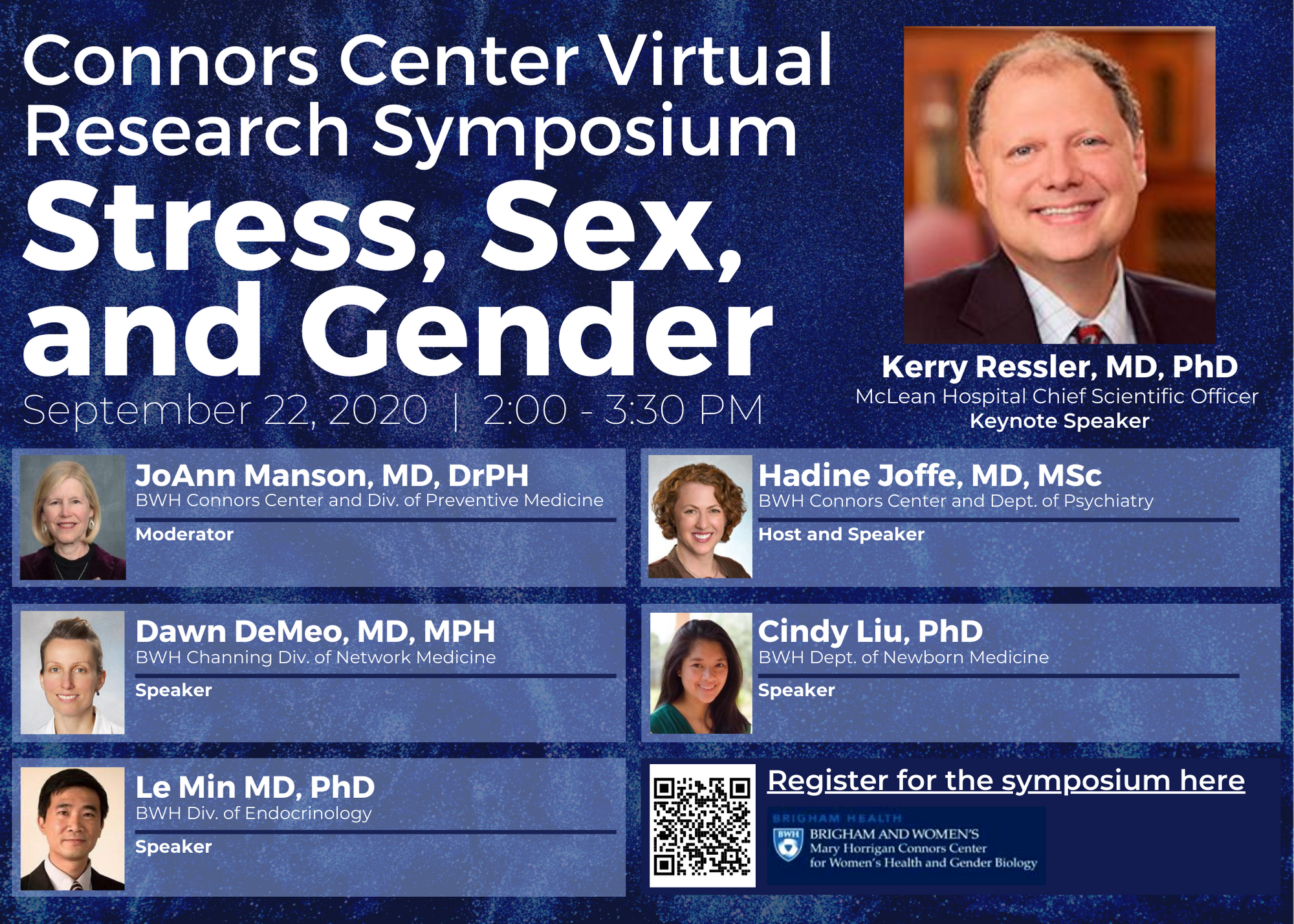 The 2019 Data Blitz took place on November 19th. The event featured talks from 12 Connors Center leaders, fellows and awardees, and followed a data-blitz format with talks divided into sessions of 3 speakers, followed by time for questions at the end of each session. The data blitz was open to the entire BWH/HMS academic community. Please see our 2019 Data Blitz Program.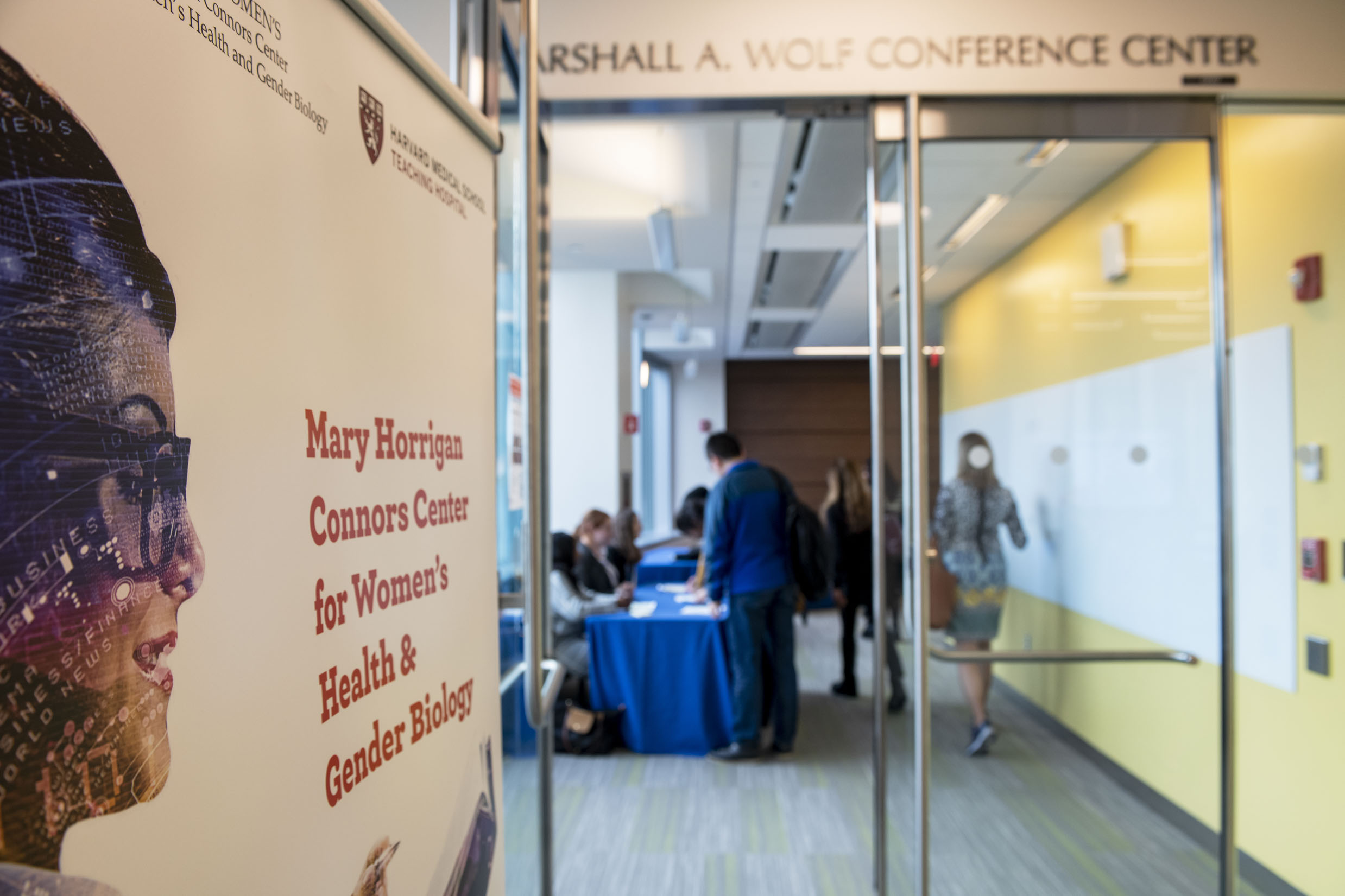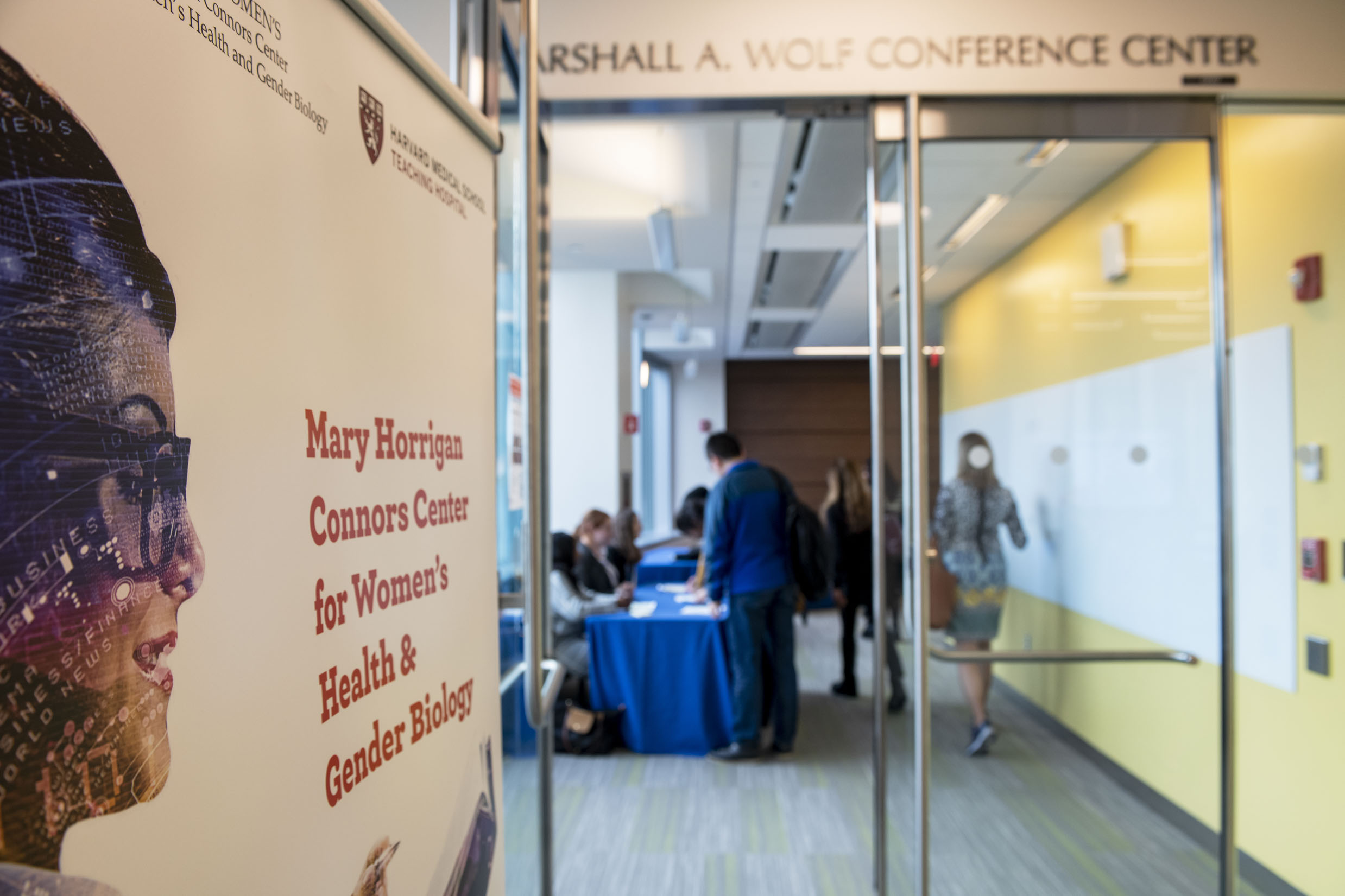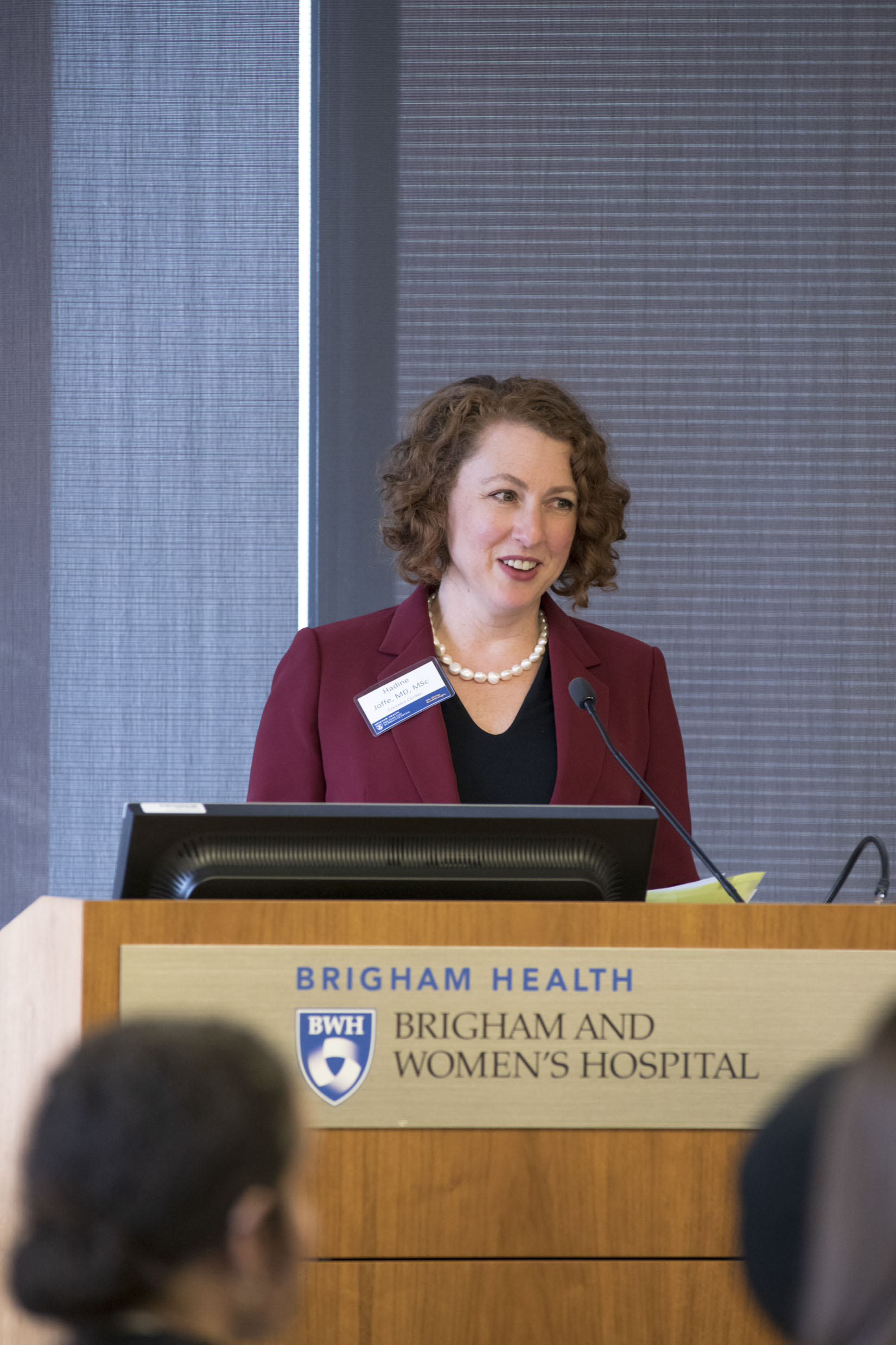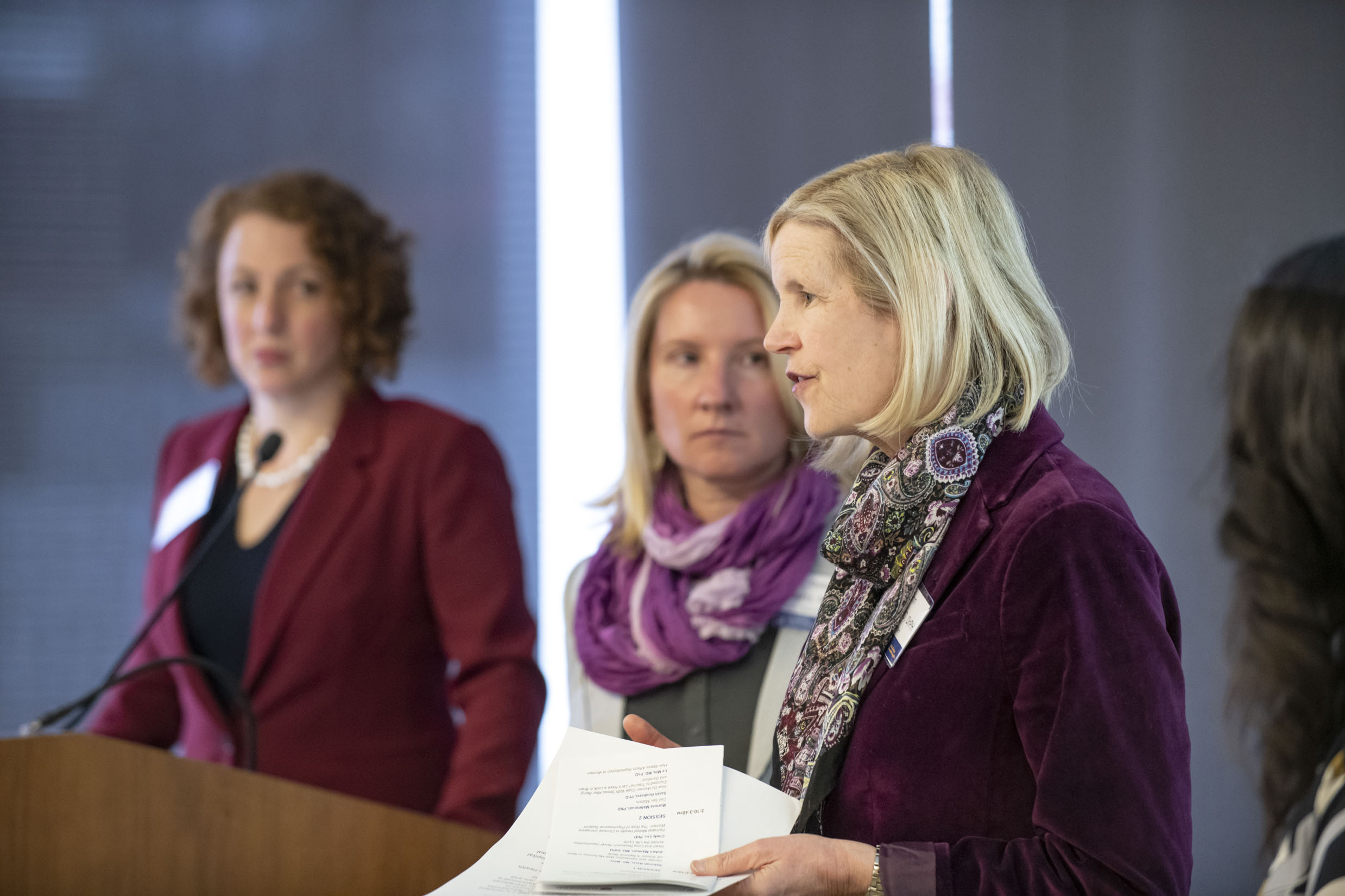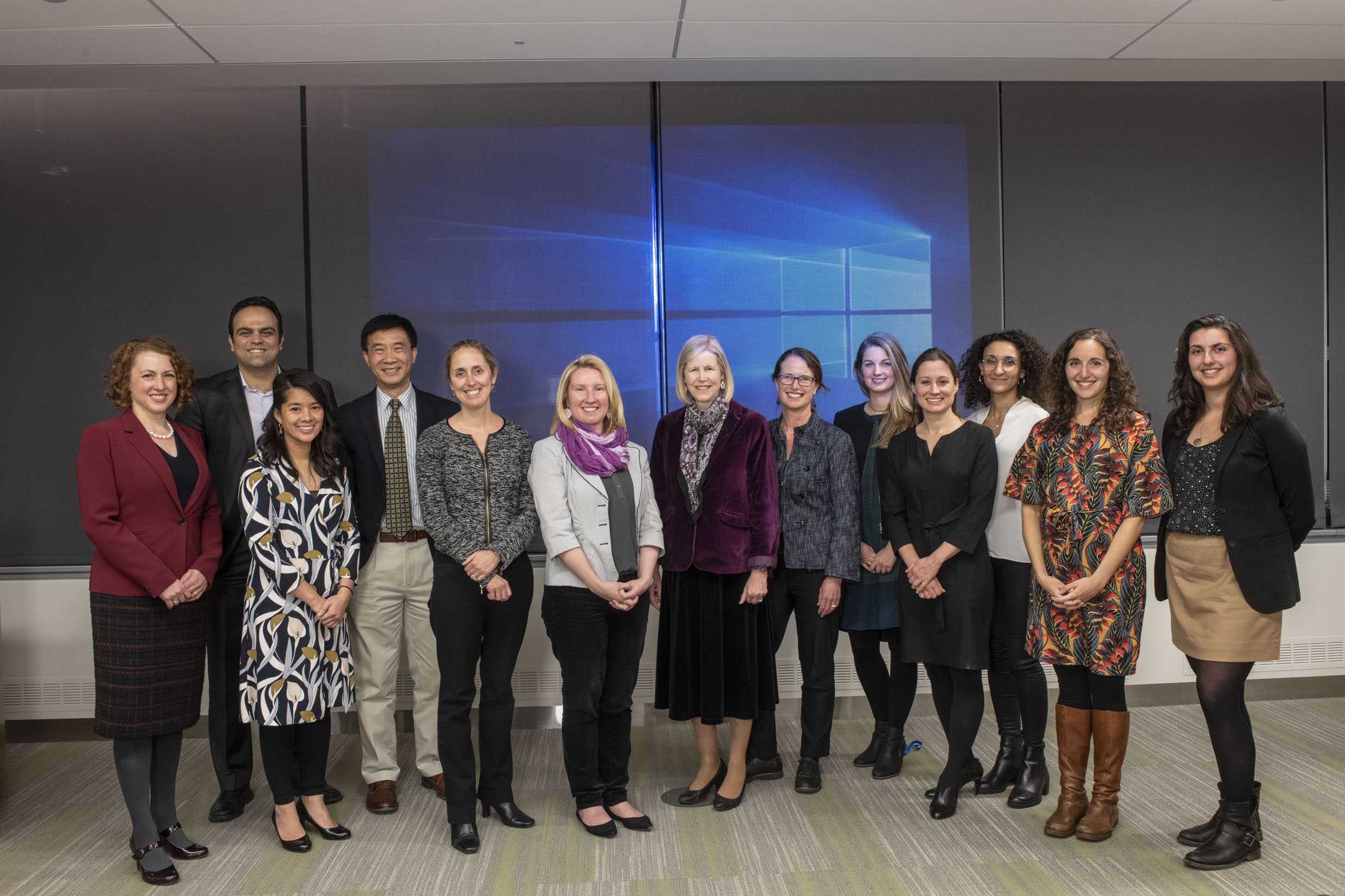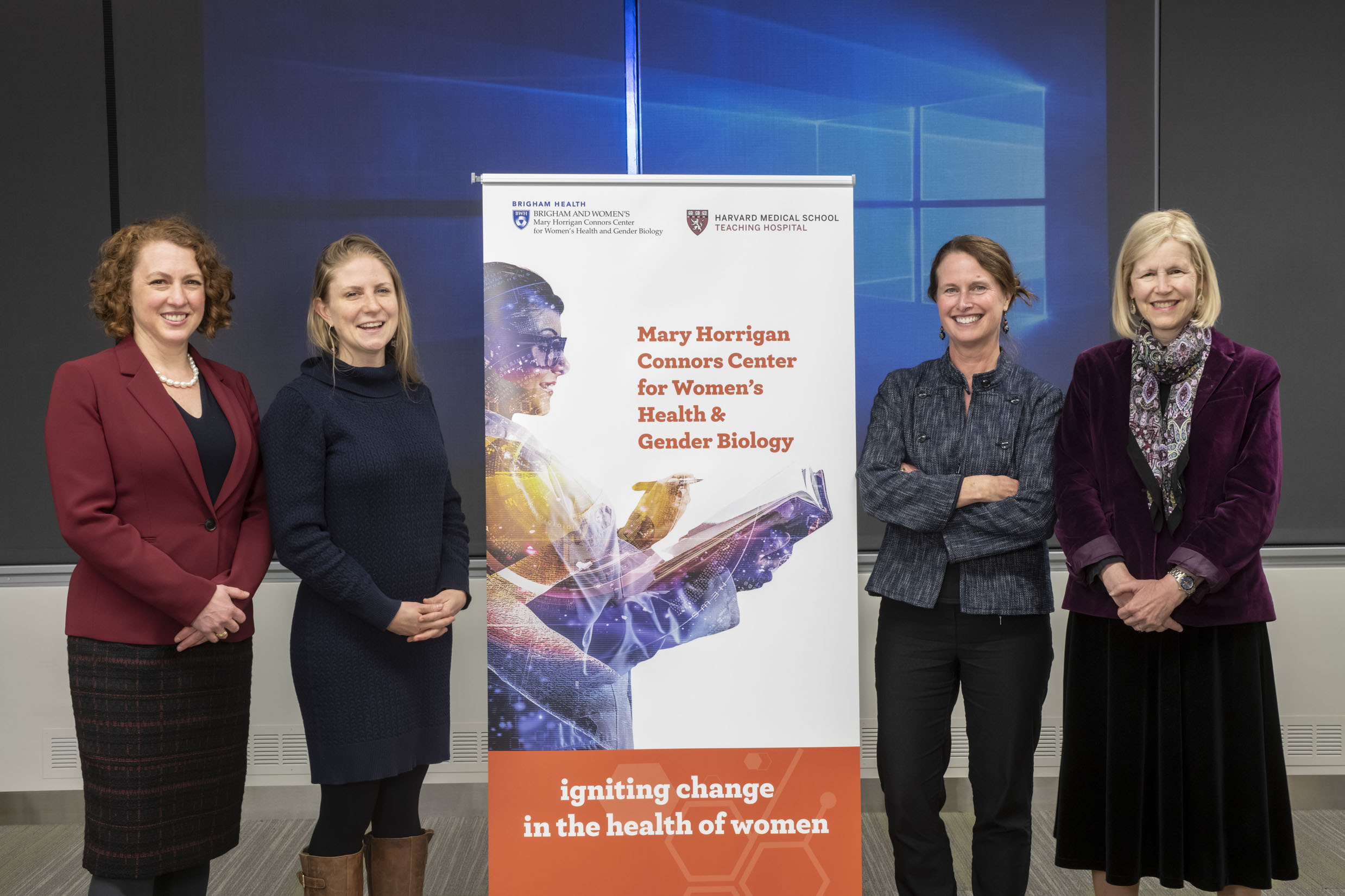 Events, Symposia & Programs
Presentations on Current Topics in Research: Laura Huang, PhD
On January 17th, 2019, the Connors Center hosted Laura Huang, PhD, Associate Professor of Business Administration, Harvard Business School, for a talk entitled, "Impact of Physician Gender on Cardiac Care for Women: Potential Role of Bias and Parallels between the Healthcare and Business Environments." Dr. Huang shared the results of her groundbreaking study which revealed that female heart attack patients admitted to hospital emergency departments were less likely to survive when treated by male physicians than patients of either gender treated by female physicians or male patients treated by male physicians.