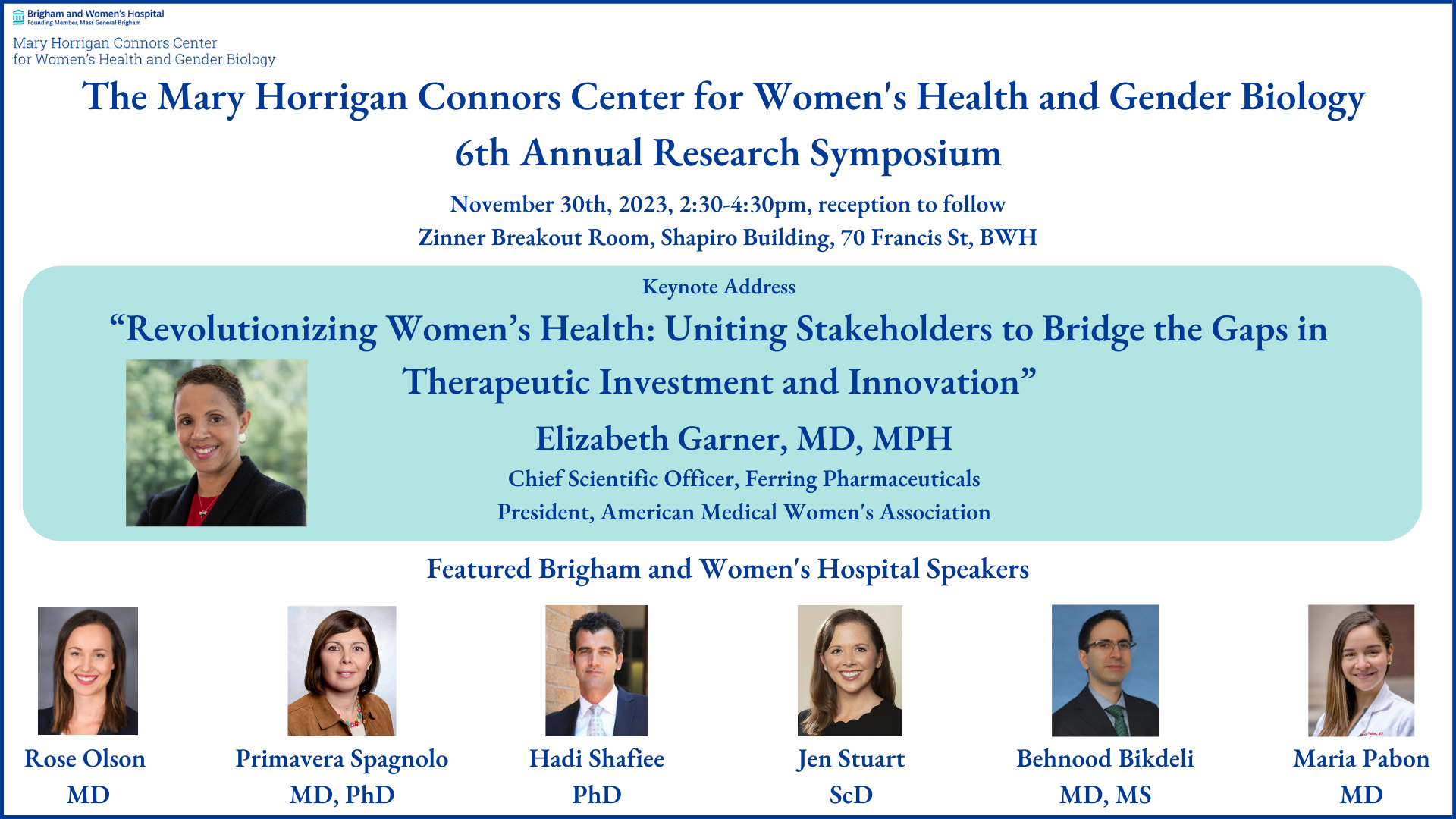 Save the Date: The 6th Annual Connors Center Research Symposium takes place on November 30th
The Connors Center for Women's Health and Gender Biology at Brigham and Women's Hospital, Harvard Medical School, is pleased to announce our 2023 Annual Research Symposium. The Symposium will take place on November 30th from 2:30-4:30pm in the Zinner Breakout Room at Brigham and Women's Hospital. The symposium aims to feature the substantial work and accomplishments of our Connors Center-funded pilot grant awardees and affiliated investigators who help fulfill this mission. Connors Center affiliated researchers and clinicians cover the breadth of the medical field at Brigham and Women's Hospital, Harvard Medical School, including and well beyond the field of obstetrics and gynecology. Throughout, there is a shared interest in promoting our understanding of and advancing care for women. The symposium will take place in person and will be followed by a reception.
Register to Attend in Person Here
Register to Attend Virtually Here
Agenda:
2:30pm – Welcome, Hadine Joffe, MD, MSc
2:40pm – Introduction of Keynote, Laura Holsen, PhD
2:45pm – Keynote Address: "Revolutionizing Women's Health: Uniting Stakeholders to Bridge the Gaps in Therapeutic Investment and Innovation", Elizabeth Garner, MD, MPH
3:10pm – Keynote Q&A
3:20pm – Introduction of Session 1, Cindy Liu, PhD
3:25pm – Session 1
• Rose Olson, MD, "Strengthening Sexual Violence Care in Sierra Leone"
• Primavera Spagnolo, MD, PhD, "Making the Invisible Visible: Results of a National Survey on the Health of Women"
• Hadi Shafiee, PhD, "Personalized Smartphone Salivary Bioassay for At-Home Ovulation Prediction in Women with PCOS"
Session 1 Q&A
3:50pm – Introduction of Session 2, Laura Holsen, PhD
3:55pm – Session 2
• Jen Stuart, ScD, "Adverse Pregnancy Outcomes and Maternal Cardiovascular Disease: Moving Beyond Population-Level Association to Patient-Level Prevention"
• Behnood Bikdeli, MD, MS, "Sex-informed Analyses for Thrombotic Cardiovascular Diseases: From Pregnancy to Senescence"
• Maria Pabon, MD, "Sex Differences in Heart Failure with Improved Ejection Fraction"
Session 2 Q&A
4:20pm – Closing Remarks: "Politics, HPV and HPV Vaccine Awareness", Hermioni Amonoo, MD
Keynote Speaker:
Elizabeth Garner is a seasoned pharmaceutical executive with a career-long focus on addressing unsolved issues and conditions that affect the health and quality of life of women. Dr. Garner has nearly 30 years of experience in medicine and industry and is currently Chief Scientific Officer of Ferring Pharmaceuticals US, a leader in reproductive medicine, maternal health, and uro-oncology and in specialty areas within orthopedics and gastroenterology including microbiome therapeutics. Prior to joining Ferring in 2022, she was Chief Medical Officer (CMO) of ObsEva, a company focused on addressing unmet needs in women's health, and before that was CMO of Agile Therapeutics, a women's healthcare company focused on contraception. Beth previously held senior positions at Myriad Genetics, Abbott Laboratories, and Merck Research Labs, where she led the Gardasil®9 HPV vaccine Product Development Team. Across her 16-year career in the pharmaceutical industry, she has led or contributed to several US FDA product approvals, including the HPV vaccine-Gardasil®9, Orilissa®-an oral treatment for endometriosis, the novel Twirla® low-dose contraceptive patch, and Rebyota-the first FDA-approved live microbiota product for the prevention of recurrent Clostridium Difficile. Dr. Garner is on the Boards of Directors of Kezar Life Sciences (KZR), which develops novel therapies for autoimmune diseases and cancer and Sermonix Pharmaceuticals, which focuses on targeted therapies for breast cancer. She is also the current President of the American Medical Women's Association (AMWA), the oldest multispecialty organization, whose mission is to advance women in medicine, advocate for equity, and ensure excellence in healthcare. Dr. Garner received her M.D. and M.P.H. degrees from Harvard Medical School and the Harvard School of Public Health and trained in Obstetrics and Gynecology and Gynecologic Oncology at Brigham and Women's and Massachusetts General Hospitals and the Dana Farber Cancer Institute. Beth is a frequent speaker on a range of topics including the health of women, women's leadership, diversity, equity, and inclusion in the workplace, and clinical trial diversity, and is an author on close to 40 peer-reviewed scientific papers. She was a 2019 awardee of the PharmaVoice 100 Most Inspiring Individuals in the life sciences industry and was the 2022 recipient of the Woman in Science Award from AMWA.