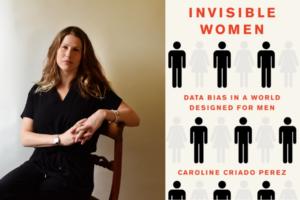 Writer, journalist and campaigner Caroline Criado Perez is the author of the critically-acclaimed Invisible Women: Exposing Data Bias in a World Designed for Men. A leading voice on equality and feminist issues in technology, health and the media, Caroline has also led high-profile campaigns to publicly recognize the contribution of women in British history. She won the Liberty Human Rights Campaigner of the Year Award 2013, and in 2015 she was named an Officer in the Order of the British Empire (OBE) in the Queen's Birthday Honors.
Invisible Women reveals the systematic, and often unconscious bias behind the data and assumptions that construct our everyday life. She reveals a world built for men, from the dangerous presumption that male symptoms of heart attacks also apply to women, to the fact that pianos are built for the male-hand size, to crash test dummies being modeled on the male frame. One of the key areas of examination is the increasing reliance in all areas on algorithms which are usually designed by, and using large amounts of data on, men which affects everything from internet search results to job applications. She uses numerous cases to exemplify how male data has always been treated as the norm, ignoring at least half the population, and reviews the effects of this imbalance on women, their health and well-being, and society as a whole.
Invisible Women is the winner of the 2019 Royal Society Science Book Prize. It was a #3 Sunday Times bestseller, spending 16 weeks in the Sunday Times bestseller lists, and was named a book of the decade by the Sunday Times. It won the 2019 Books Are My Bag Readers' Choice Award, the 2019 Financial Times Business Book of the Year Award, and was The Times Current Affairs Book of the Year.